We have pasta at least once a week in this house. My son makes it daily for himself. Before we McDougalled it was the same old semolina pasta that most SAD eaters prefer.
When I was a kid way back in the 1950's and 1960's, we were able to buy it fresh from some of the local Italian places. My mother and one grandmother even took the time to make their own noodles on occasion. I remember helping them roll out the dough until it was less than an eighth inch thick, letting it dry on the table for a few hours, turning the gigantic rectangle of dough over hourly so it dried evenly, then taking a knife or pizza cutter to to to make long ribbons, then slicing in the other direction to make tiny 1/4 inch square noodles. It was tedious, back-breaking work, but OMG! They tasted so great the work was worth it.
There was no way I was going to go through all that. When pasta makers were available for home use I bought one and used it weekly. I remember making tomato elbows, spinach penne, and my husband's
favorite, garlic spaghetti noodles.
Then I made the switch from white flour/semolina to whole wheat, and the joy of pasta making ended. No matter how much liquid I added to the kneading dough it was still so stiff and hard and impossible to pass through the extruders on the machine. I scrubbed the machine well and packed up the machine and dies. I kept it all these years. It moved with us from NJ to Florida and back 15 years ago. It sits in one of the few kitchen cabinets we have in this apartment taking up precious storage space. I really should get rid of it, but like mothers who hold on to their children's most precious toys, I hold on to an appliance that used to give me so much pleasure. I hold out hope that one of these days I'll find a way to make whole grain pasta in it.
Another thing I spent money on one of those hand-crank flat pasta makers: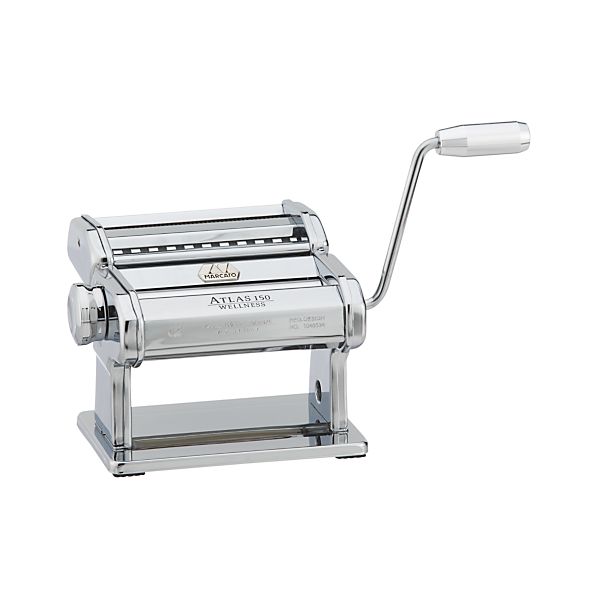 hoping that I could make whole wheat pasta. At least there was no motor to burn out, right? Wrong. That motor was my own arm muscles, and after a half hour of turning that crank over and over again my shoulder really hurt! That was the beginning of all my shoulder problems in the right arm that persist to this day, almost 2 decades later! I was told they make motors for these units, but those cost three times what I paid for the cutter, and there's still no guarantee it would work with the heaviness of whole wheat doughs, so this is another item should be donated.
I was so happy the first time I saw boxes of whole wheat pasta in the HFS! Each box cost over $5, but our health was worth it. Now you can get whole wheat pasta for under a buck at any grocery store, although the size shrunk from a pound to as low as 10 ounces, depending on brand. And other whole grain pastas have appeared - brown rice, bean, corn, quinoa. So many choices!
Over the years, our family has gravitated towards Tinkyada Rice Pasta as our preferred type and brand of pasta because it tastes most like old fashioned semolina pasta, but for this recipe I decided to go "old school" and buy a box of whole wheat. That was my first problem with this recipe.
Creamy Broccoli Pasta
Servings: 4
Preparation Time: 10 Minutes
Cooking Time: 10 minutes
8 ounces pasta -- your choice
1/2 cup water
2 leeks -- thinly sliced
2 cups broccoli florets -- small
1 cup soy milk -- or rice milk
2 teaspoons cornstarch
2 teaspoons chopped fresh basil
1/8 teaspoon Tabasco sauce
Put a large pot of water on to boil. Drop in the pasta and cook according to the package directions. Drain and rinse.
Meanwhile, place the water, leeks, and broccoli in a saucepan. Cook, stirring frequently, for 8 minutes.
Combine the remaining ingredients in a bowl. Add to the vegetable mixture and cook and stir until thickened.
Serve over the pasta.
Source:
"McDougall Quick and Easy Cookbook"
page 151
We're not used to the grittiness and heaviness, even the overall taste of whole wheat pasta any more. Even though I cooked it longer than package directions it was still very "al dente" and some pieces still seemed uncooked in spots. It was a big turn-off. The recipe called for only 8 ounces of pasta, but I cooked up the whole 12 ounce box and adjusted the other ingredients accordingly.
Instead of 2 leeks I planned on using three. Yes, I used real live leeks, not freeze-dried ones, for this recipe. Never again! First came the buying - they're only sold in bundles of 2 so I had to buy 4. I figured I always come across recipes that need leeks so I would just stick some in the freezer. But after following the directions in this video on how to clean and cut them:
There really didn't seem to be that much leek left, so I wound up using all 4 for this dish. As it turned out, it could have used twice this much.
I used a whole one pound bag of defrosted frozen chopped broccoli, which came out to 4 cups.
I doubled the amount of milk, and it still didn't look like enough, so I added a third cup of almond milk. Even tripling the amount of corn starch the mixture never thickened and I wound up tossing in a heaping teaspoon of Instant Clear Gel. Now it was thickening up a bit!
I put in the rest of the package of basil I had, which came out to a quarter cup of chopped basil. It could have used more.
I even tripled the Tabasco and although I don't like things "hot" felt it needed more.
Notice a running theme here? The whole dish needed something "more."
My husband wound up putting a few ounces of sriracha sauce into his bowl. I used my homemade parmesan (equal parts ground almond meal, nutritional yeast and pinch of salt ground up in a food processor for a few minutes). Doing that made it edible.
We each got one decent sized serving out of it. If I used the 8 ounces of pasta as written only one of us would have eaten. It's like that old joke: This meal tastes so terrible! And they give you such skimpy servings!
Nothing seemed to go right with this meal. In the end, my husband was the first to say I should never make this again, not unless I make some serious changes to up the taste somehow. I agree.
But if you have a family with little kids or older people who don't like things too flavorful or spicy and prefer the blandest of foods, then this meal is for you!